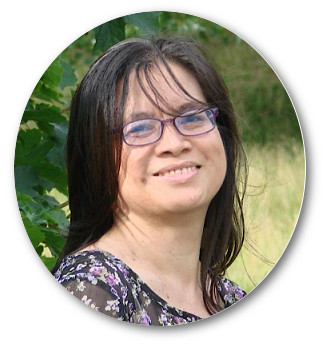 Meet Julia
Julia is a multi-lingual author hailing from the foot of Mount Kinabalu in the heart of North Borneo or Sabah, Malaysia.
She writes contemporary romance–from sweet to steamy. Since her debut English language novel, Catching Lily in 2017, she's well on her way publishing more!
Currently, she lives with her husband in the metro Boston area.
When not writing, Julia can be found online at several places. Connect and say hi to her on Facebook and Twitter.
Ten things you should know about her:
1. Loves croissants.
2. Hates cinnamon.
3. Loves Nature, except snakes and lizards.
4. One of her hobbies is macro photography.
5. Loves Hello Kitty stickers.
6. A plotter and a pantser: a plantser 🙂
7. Procrastinates by viewing outrageous animal videos.
8. Hates the TV series The Bachelor/Bachelorette, but she watches anyway.
9. Loves pastel colors.
10. Favorite movie is the screwball comedy It Happened One Night.
How
How did she come about choosing to write contemporary romance?
While in primary school, she discovered numerous hardcover books with beautiful illustrations of girls and their princes. The stories of how an ordinary girl finds her handsome hero after going through testing, heart-wrenching obstacles fascinated her.
That was how it all started. These types of characters have stuck with her all these years, and now she's writing them in her novels. The settings are different, but the goals, motivations and conflicts of the heroes and heroines are the same.
Julia devours all genres, but prefers contemporary – young adult, literary and romance. At this stage, her focus is writing contemporary romance with a suspense subplot, as this is what she prefers to read.
Why
Why romance novels?
1. She wants to move you—emotionally. To make you smile, laugh, cry or chuckle. She wants to entertain you, to make you feel good about yourself.
2. She wants to sweep you away from your worries and bring you into a story that makes you feel empowered to do something positive.
3. She believes in a happy ending.
4. She believes a couple can build a strong and fulfilling relationship - if they trust and respect each other.
5. She believes love conquers every obstacle.